home | avr microcontroller & DIY electronics | toolbox | science club | tuxtalk | photos | e-cards | online-shop



★ December 6 :Nikolaus (St Nick) ★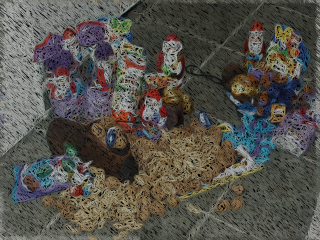 Of course Gini and Karl hadn't forgotten to put their boots near the entrance on the evening of December 5 before they went to bed. In the morning they got up early and ran down the stairs. And really: their boots were filled to the brim with chocolates and nuts like the years before. What a pity though that they had never managed to meet Nikolaus so that they could thank him personally.

Later they went to the beach with their parents as they wanted to meet with their dolphin friends Wim and Wom. When they arrived at the beach Wim and Wom were already waiting for them with their parents. They hugged each other. "Do you want to have a look at our Christmas village ?", Wim and Wom asked them. "This year it is more beautiful than ever". Of course Gini and Karl wanted to see it. They hopped on the backs of their dolphin friends and the ride began. After they had raced quite a distance through the water, the dolphins dived and a moment later they had reached the Christmas village.

A small train with a bell stopped in front of them and Gini and Karl boarded with their parents and friends. The train made a jingle and started moving. What a wonderful underwater world! Everything was very colourful and everything looked very Christmas like. There were Christmas trees with glowing candles, snowmen, stars. Gini and Karl looked through the window with their mouth wide open while the train was tucking along. Suddenly the train stopped. When they left the train they saw a huge pile of building blocks in front of them. A big sign read: You need to fulfill 5 tasks, then you can meet St Nikolas today. First start by building a beautiful Christmas landscape with these blocks. No block must remain unused. Immediately Gini and Karl and their friends started building. They built a big sleigh with reindeer and presents, they built snowmen, a Christmas tree and lots of other things that had to do with Christmas. How much fun it was! But of course they had to hurry because there were four more tasks they had to do to meet St Nikolas today! And how much they wanted to meet him! When they had finished their landscape papa Antoin quickly took a photo of all of them in that Christmas landscape, then they boarded the train again and went on.
At the next stop their task was to bake some cookies. Quickly they mixed the dough, rolled it and started to form cookies with their cookie cutters. And into the oven with them. They were careful not to let them burn and turn black instead of a crispy golden! Soon the sweet smell of the cookies was everywhere. Then the cookies were ready and on they went. Now they needed to build a big snowman with all the snow lying around. As they were 8 it luckily wasn't a big problem and easily done. Of course they couldn't resist to get into a little snowball fight. But soon the snowman was built with all the snow and a branch for the mouth that gave him a crooked smile and a carrot for a nose. And again they sat down in the train and rolled through this wonderful bizarre landscape. At the next stop all kind of craft materials were lying around and they built gifts with them as much as they could. Each gift looking ever more beautiful. Then they packed the presents in the train as they were instructed to do and moved on. Only one more task, before they could greet St Nikolas! They were so excited! Hopefully this last task wasn't too difficult either.
But their worries hadn't been necessary. This time they needed to wrap their gifts and give them to the colourful and glowing fish who otherwise wouldn't get any Christmas presents. The fish were so happy! Therefore Gini and Karl and their friends were happy too. They were so joyful and happy that they almost forgot that now they could finally meet St Nikolas!
But there he already came out of his house and shook their hands. He invited them to eat Christmas cookies and drink warm chocolate with him and they chatted and laughed with St Nikolas for a long time! Knecht Ruprecht was also there. First Gini and Karl were a bit scared of him as he was dressed all in black. You might not know Knecht Ruprecht. He is a companion of Nikolaus. In the olden times Nikolaus only brought chocolate to children who had been good all year. Knecht Ruprecht took care of the others by hitting them with his wooden sticks. But as nowadays this kind of behaviour isn't really accepted any longer he now just helps Nikolaus to deliver all the chocolate and nuts on time. And after chatting with him for a while Gini and Karl found that he was actually quite a funny fellow just like the Nikolaus.
Finally their parents told them that it was time to leave as it had already become late evening. Time had gone by soooo fast, way too fast. But it really had been a wonderful day and they couldn't believe that they had really met St Nick today!
---
Copyright © 2004-2022 Katja Socher, tuxgraphics.org