home | avr microcontroller & DIY electronics | toolbox | science club | tuxtalk | photos | e-cards | online-shop



★ December 18 : At the Christmas market ★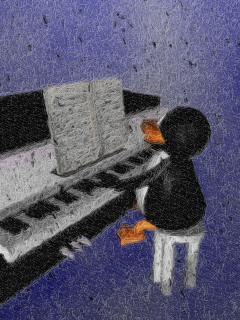 There was still snow outside and Christmas came closer and closer. Grandma and Grandpa had come over for a short one day visit. Of course Gini and Karl were happy to see them. After the long journey Grandma and Grandpa suggested that they would like to go out for a walk. "We haven't been to the Christmas market yet at all this year" Karl said.
What a crowd of people! It seemed a lot of people in Multimix City had had the same idea. And what they could see in the stands. It blinked everywhere and with loud megaphones the latest electronic devices like smartphones as well as digital cameras and wide screen tvs were offered for the best Christmas sale. Of course there were also enough stands where you could find something to eat: There were stands selling hot dogs, French fries or fish. After walking around all the stands several times and looking around long and hard they finally even found a stand selling roasted almonds! How glad they were! They bought almost the whole stand. For a while they walked on silently. Finally Gini said: "That's all interesting to see but by my standards it hasn't much to do with Christmas at all. It's only about selling popular stuff while the spirit of Christmas is totally lost on them".
They went downtown and looked into the decorated windows admiring the sleighs, reindeer, Santas and snowmen. Some decorations even were animated and Christmas Carols were playing. As the shops had already closed it was very quiet. What a difference to the noisy and hectic Christmas market activities. Strangely here they felt much more like Christmas. Joyously they sang along with the Christmas songs and kept on singing all the way home.
When they were back home they sat down comfortably at their open fire place and drank hot chocolate. Grandma started telling about the Christmas markets that existed when she was a child. How different it had been. Of course the people there wanted to sell their stuff too but most of all it was about Christmas and the joy to be there. At many stands private people were selling their hand-made stuff and often you could find things there that couldn't be found anywhere else. The air was filled with the smell of joss sticks, candles were burning and everywhere you could buy roasted almonds, mutzenmandeln and other Christmas cookies!
Through that tale Gini and Karl had become hungry again. Yes, they had already baked Christmas cookies. But mutzenmandeln? Quickly Gini switched on her computer and searched for the recipe. Mama Sara looked in the kitchen and really they had all the ingredients they needed at home. How lucky they were! The kitchen was very crowded as everyone wanted to be in the room to help with the baking. What fun they had standing there with their aprons following the instructions of the recipe!
Finally the mutzenmandeln were ready. They sat around the dining table, lighted up the candles on the Christmas wreath and switched of the electric lights. Of course they had new hot chocolate and other Christmas cookies too. The fire was crackling in the open fireplace.
When they had finished eating Papa Antoin sat down on the piano and began playing Christmas Carols. Gini took her recorder and the others sang as loud and well as they could. What a nice day!

---
Copyright © 2004-2022 Katja Socher, tuxgraphics.org