home | avr microcontroller & DIY electronics | toolbox | science club | tuxtalk | photos | e-cards | online-shop



Baking Santas made from a yeast dough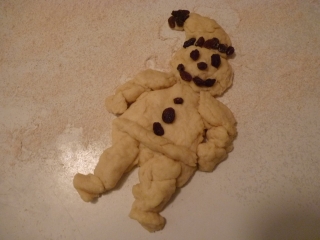 You need:


1 package of yeast


200ml milk


450g flour


50g butter


1 package of vanillin sugar (if available)


1 egg yolk to paint on the Santa for a nice crispy color


raisins for eyes, nose, mouth, buttons etc.





To make the dough takes a while for this recipe. Take a big bowl and mix the flour and sugar. In a separate cup dissolve the yeast in the milk. Then slowly pour it into the center of the big bowl and with the help of a fork stir the liquid and part of the flour. Now let it grow for about 20 minutes before you contine.
After the 20 minutes have passed you can see that the dough in the middle of the bowl has grown. Now add the butter and the vanillin sugar and knead it until everything has become dough. Now again there is a wait time, this time it is around 45 minutes.
Now shortly knead it again and then with the help of a rolling pin and most of all your hands form 4 Santas (or as many Santas as you want). Don't forget to decorate his face and coat with raisins.
When you are done forming the Santa put them on a baking tray, take a pastry brush and paint the Santas with the egg yolk.
Bake in the oven at 200°C for around 20 minutes until it has a nice golden brown look. Let it cool and then:
Enjoy!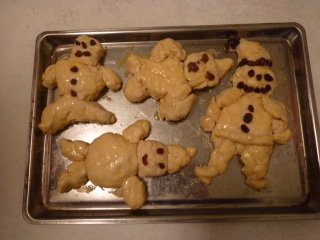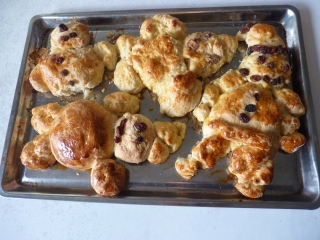 ---
Copyright © 2004-2022 Katja Socher, tuxgraphics.org